Volledige rondleiding op Gran Canaria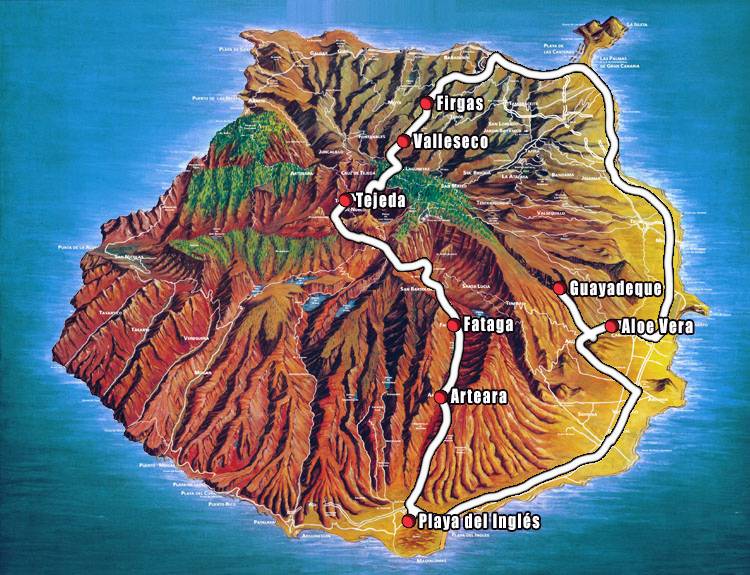 Een mooie ervaring die je het verhaal van een eiland brengt, via het pittoreske dorpje "Agüimes" (oud aboriginal dorpje) komen we aan in "Guayadeque". Ontdek en bezoek een dorp vol grot woningen in één van de meest spectaculaire ravijnen van Gran Canaria. Ons volgende bezoek is een plantage van Aloë Vera,u krijgt hier tevens de kans om de krachtige eigenschappen van deze plant op uw huid te testen.Van hieruit rijden we verder via het Noorden,langs prachtige routes die ons naar de kleinste gemeente "Firgas" brengen, rijdend langs kleine boerderijen die zich voornamelijk toeleggen op het verbouwen van typische gewassen. Hier zal het prachtige eiland u zijn groene hart laten zien, diepe ravijnen en adembenemenede berglandschappen en de majestueuze "Roque Nublo" en de "Roque Bentaiga". Na het bereiken van "Cumbre" ( bijna hoogste punt) omgeven door de Canarische pijnbomen en de amandelbomen van "Ayacata" stoppen we in "Fataga" bekend voor de "vallei der duizend palmbomen".
Linda

The tour was fantastic, a bit too long for the kids but we learned a lot about the island, highly recommended.
The visit was made by 06-06-2017
Jesús Torrado

La excursión estuvo bien, salvo por el restaurante, el Balcón de Zamora, donde la calidad precio no es buena, cantidad y calidad escasa para el precio que nos cobraron, mal servicio, un local muy grande sin aire acondicionado, muchas malas caras y una negativa cuando pedimos que nos acondicionaran un lugar más cómodo para intentar estar más frescos. Gracias a nuestro guía Tom, conseguimos que nos sentaran junto a una ventana, que al principio se negaron a abrir. El resto de la excursión fue muy agradable.
The visit was made by 16-08-2018
Almu

Una excursión muy completa por el precio que hemos pagado, tanto yo como mis amigas lo pasamos muy bien con un guía muy informativo y entretenido. Muchas curvas antes de llegar a un pueblo donde se cultivan sobre todo tomates, san nicolás, por lo demás la comida en el puerto de Agaete fue muy buena y típica. De regreso después de comer paramos en las Palmas y hubiésemos querido estar algo más de tiempo pero por lo demás un tour muy recomendable para quien quiera conocer la isla por la costa.
The visit was made by 18-07-2018