Excursies Gran Canaria: de grote eilandtour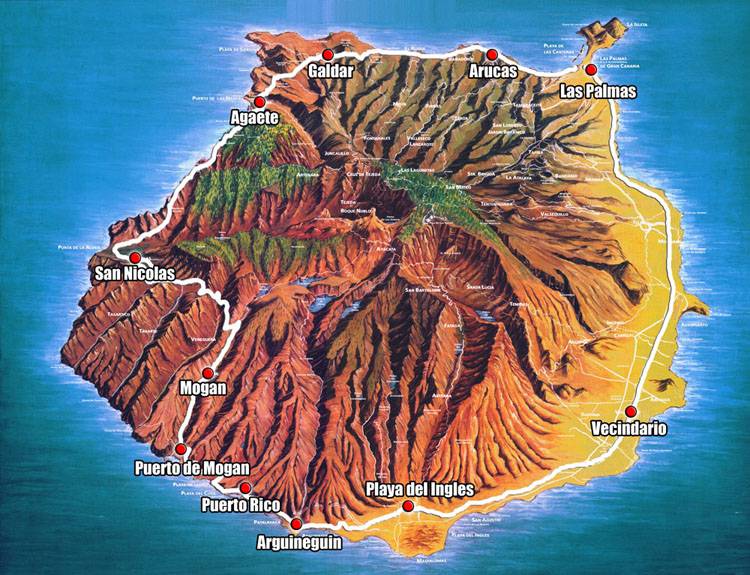 Alle vier de kusten van Gran Canaria in slechts een reis! We beginnen richting het zuidwesten, met een bezoek aan het pittoreske vissersdorpje van "Puerto de Mogán" beter bekend als 'Klein Venetië'. Daarna voert de reis ons midden door vulkanische landschappen en bergen van duizend tinten naar San Nicolás, het centrum van Gran Canarische tomatenteelt. De westkust, met haar prachtige kliffen, leidt ons naar Puerto de las Nieves in Agaete, waar we de "Vinger van God" zullen zien. Rijdend langs Galdar, Guía en Arucas, zullen we stoppen om een typischebananenplantage bezoeken. In Las Palmas, en krijgen we de kans on langs het beroemde Canteras-strand te wandelen en een kijkje te nemen in het "Alfredo Kraus" Auditorium. Na een onvergetelijke dag, gaan we terug naar het zuiden via de oostkust van Gran Canaria.
Maryjoy Gerald

The island tour through gran canaria was a great tour that I would not forget to recommend to anyone who visit gran Canada. My boyfriend and I decided to make this tour the first activity to do when we get there and we definitely did not regret it. One is directly picked up from his hotel and brought back. Tourguide Tom is a genius; told the beautiful stories of gran canaria in three different languages (English,German and Spanish). He made sure that the day was wonderful for us. Really a recommendable tour
The visit was made by 17-08-2018
Niek

Just fantastic. A very complete excursion along the coast of the island, we have had a great time. An excellent bus, the guide was very informative and the food in the fishing village in the north of Gran Canaria was quite correct for the price we paid.
The visit was made by 08-08-2018
Almudena

Por alguna razón pues el comentario de la vuelta a la isla en la excursión del VIP, pero las dos excursiones me encantaron. Si haces el VIP por el centro de la isla y vuelta a la isla te llevas una más que completa idea de lo que gran canaria te puede ofrecer y te vas con una idea de la isla totalmente diferente a cuando llegas a Gran Canaria y piensas que todo es cemento y hoteles.
The visit was made by 18-07-2018